Twenty-two years of Bridge to Brisbane…oh, how time flies when you're having fun!
What started out as a local community event has grown to be Queensland's largest fun run! Today, tens of thousands of people take to the streets of Brisbane to celebrate being healthy and active, and enjoy all that is great about our river city. For many people, it's also an opportunity to raise funds and awareness for a charity of their choice.
Read on if you'd like to learn a little more about our 22-year history!
When was the first race?
The very first event kicked off in August 1997, with around 5000 participants. Back in the day, the race headed east towards the Manly coast line and was originally called the 'Bridge to Bay'.
Fast forward to today, where the introduction of our new course in 2015 saw 30,000 people pound the pavement and our event sell out. Last year was the same, and this year is looking no different…so you'd better get in quick!
Who was the first winner?
For the first three years, Brissie local Pat Carroll managed to breeze past the competition and win the 12-kilometre 1997, 1998 and 1999 races. He was Queensland's best distance runner at the time and crossed the finish line in just 34 minutes and 20 seconds. Here's a fun fact… did you know the yellow figure in The Sunday Mail Bridge to Brisbane logo is an illustration of Pat victoriously finishing the race back in 1997?!
How has the course changed over time?
Our course hasn't always taken in the same sights as it does today!
When we were the Bridge to Bay, we started on the Gateway Bridge and headed east towards the bayside suburb of Manly. The Gateway Bridge remained the starting point for many years, but the finish line changed a few times – our name change to Bridge to Brisbane saw the route finish at New Farm Park, before settling on the Brisbane Showgrounds in 2008.
After eight events encompassing this route, 2016 marked the arrival of two brand new courses, created to encompass more of Brisbane than ever before. These are the same courses participants will take this year, and they're here to stay!
The 10km course starts at Roma Street Parklands and crosses three of Brisbane's iconic bridges – the Go Between Bridge, the Victoria Bridge and the Story Bridge – and the 5km starts at the beautiful Captain Burke Park, crossing the Story Bridge twice. Both courses finish in the South Bank Parklands where participants can enjoy a morning of fun and relaxation with friends and family post-race.
What's new in 2018?
This year, the Finish Line for both courses is on Little Stanley Street, so your cheer squad can watch you from the South Bank Parklands and encourage you during your run.
We've also just launched the Bridge to Brisbane app, which is now available for download on Google Play and the App Store! With a countdown timer, event updates and selfie filters, make the app your go-to guide for race day 2018. Just search Bridge to Brisbane to download now.
We also launched a brand new Bridge to Brisbane merchandise line, as seen on our friends at FitazFk Gym in The Sunday Mail.  With a range of items to suit all activewear enthusiasts, shop the full range right here ahead of race day!
Why do people continue to race?
From the very beginning, The Sunday Mail Bridge to Brisbane has been much more than just a run. You don't need to be an elite athlete to enjoy our event – Bridge to Brisbane is all about celebrating the very best of Brisbane, while appreciating being healthy and active. Elite runners, budding joggers and casual walkers can all take part in Bridge to Brisbane and have an equally enjoyable experience.
It's also a chance to give back to the community – participants are encouraged to raise money for a charity of their choice, or for The Courier-Mail Children's Fund. Since launching the event 22 years ago, participants have raised over $9 million for charities, including funds raised so far this year!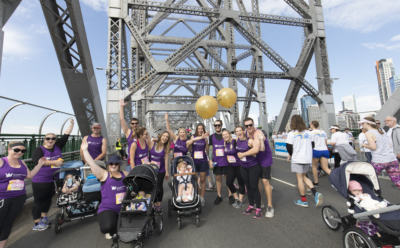 Where do I secure my spot?
What are you waiting for? Join us as we continue to make history and sign up today for Brisbane's biggest and best fun run, taking place August 26, 2018!